Open a trading account with eToro today !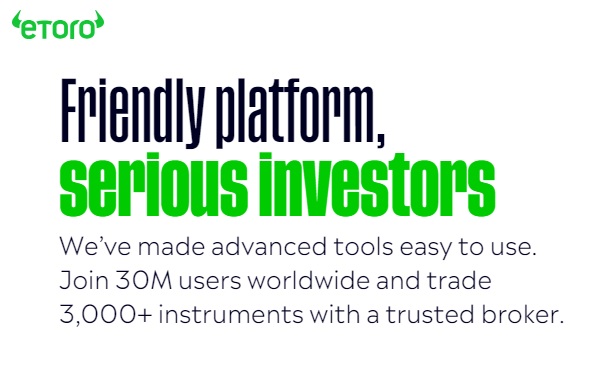 eToro is a social trading and multi-asset brokerage platform that allows users to trade various financial instruments, including forex (foreign exchange), stocks, cryptocurrencies, commodities, and more. If you are interested in opening a forex trading account with eToro, here are the general steps you can follow:
Visit the eToro Website:
Go to the official eToro website (https://www.etoro.com/) to get started.

Sign Up:
Click on the "Join Now" or "Sign Up" button on the homepage.
You'll be asked to provide personal information, including your name, email address, and phone number.
Create a username and password for your eToro account.

Complete Verification:
After signing up, you'll need to verify your identity and provide additional information. This usually involves uploading a copy of your government-issued ID (such as a passport or driver's license) and verifying your address.

Fund Your Account:
Once your account is verified, you can fund it. eToro offers various funding options, including credit/debit cards, bank transfers, and popular e-wallets like PayPal.
Select your preferred funding method, enter the required information, and specify the amount you want to deposit.
Explore the Platform:
After funding your account, you can access the eToro trading platform.
Take some time to familiarize yourself with the platform's features, including the forex trading interface, charts, and tools.

Search for Forex Pairs:
To start trading forex, search for the specific currency pairs you want to trade. eToro offers a wide range of currency pairs, including major, minor, and exotic pairs.

Place Your Trades:
Use the trading interface to place orders. You can choose between market orders, limit orders, and stop-loss orders, depending on your trading strategy.
Specify the trade size (lot size) and any desired leverage (if applicable).

Monitor Your Trades:
Keep an eye on your open trades, and use the platform's charts and indicators for technical analysis.
Set stop-loss and take-profit orders to manage your risk and potential profits.

Social Trading (Optional):
eToro is known for its social trading features. You can follow and copy the trades of experienced traders if you're new to forex trading or want to diversify your portfolio.

Withdraw Funds:
If you want to withdraw funds from your eToro account, you can do so by navigating to the withdrawal section of the platform and specifying the withdrawal amount and method.
It's important to note that forex trading carries inherent risks, and it's possible to lose more than your initial investment. Therefore, it's essential to have a clear trading strategy, practice risk management, and consider your level of experience and risk tolerance before trading.
Additionally, eToro's services and features may evolve over time, so it's advisable to review the platform's official website and terms and conditions for the most up-to-date information and offerings.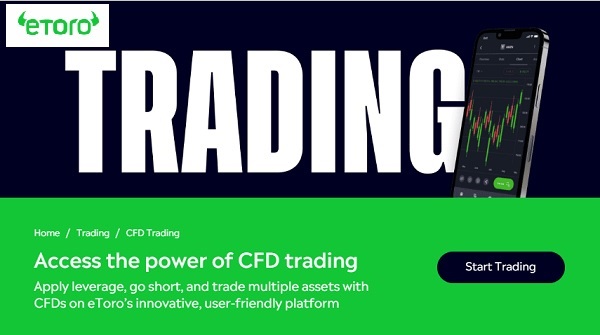 Posted on 12-Sep-2023