Can Malaysia regain its lost Asian Tiger stripes?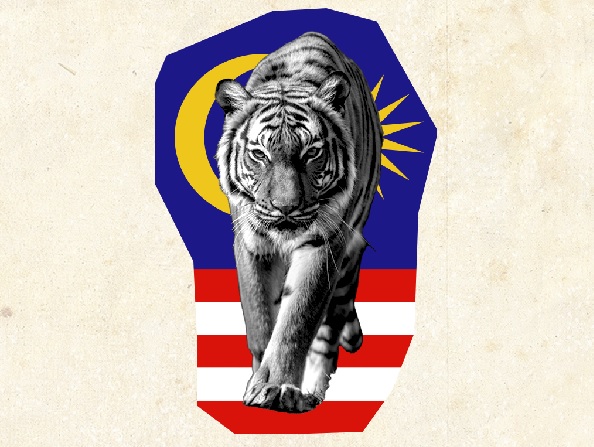 If you ask Malaysians under the age of 35 years whether they know the country was once referred to as an Asian Tiger, most would probably give you a blank stare. That's because we lost our tiger stripes a long time ago.
Today, it is generally accepted that the Asian Tigers are South Korea, Taiwan, Hong Kong and Singapore. From the early 1970s to the 1990s, these countries underwent rapid industrialisation and maintained exceptionally high growth rates of over 7% per year.
Hong Kong and Singapore became leading international financial centres, while South Korea and Taiwan dominated in the manufacture of electronic components and devices.
However, in the 1960s and 1970s, Malaysia was their peer economically. In the early 1970s, Malaysia became one of the first countries to establish export processing zones, a move which attracted many multinational corporations involved in the manufacture of electronics products. The economy grew at annual rate more than 7% before the Asian financial crisis struck in 1997-1998. At one point in time, the World Bank even touted Malaysia as a "model country" for Asia's rise.
Sliding down the slippery slope
So, where did it all go wrong for Malaysia?
For Sunway University economics professor Yeah Kim Leng, the primary reason has to do with education.
"We did not sustain or improve on the quality and quantity of science, technology, engineering and mathematics (STEM) graduates," he said.
"The implementation was derailed by political aims, and this is evident from the present shortage of skilled labour in selected industries, especially in advanced technologies.
"Another area where we could have remained ahead was the development of our indigenous domestic technological capabilities. However, local talent was not developed through investment in innovation, and research & development (R&D)."
Eventually, countries in the region became more attractive because of their larger market size, and their equally attractive investment policies, steady economic growth, and improving economic fundamentals, Yeah said.
Center for Market Education CEO Carmelo Ferlito believes Malaysia became a "victim of its own success".
"As the country modernised fast, there was probably a too rapid move away from manufacturing. Embracing the idea that a modern country should focus exclusively on services was wrong," he opined.
"As investment schemes progressed, a rationalisation effort was never done and the institutional framework for investments became less friendly, with stricter regulations for labour, with more red tape, and stricter banking regulations."
Ferlito said the only edge Malaysia had on its neighbours was in its infrastructure and institutions. Apart from that, its competitive advantage was lost.
An impossible dream?
Though it may seem like a herculean task, the resurrection of Malaysia's Asian Tiger status may not be a far-fetched dream.
The country's strengths are its good infrastructure, multi-ethnic diversity and good English language competency. It is also blessed with bountiful natural resources and a strong financial system.
"We are on the surface a modern state, with first world infrastructure and amenities but there is a widening gap between rich and poor, the rural-urban divide, and regional divide between the Peninsular and East Malaysia," Yeah said.
"This gap needs to be closed if we want to achieve inclusive and environmentally sustainable growth. But due to rising intra-ethnic income inequality within groups, and the lack of social and political harmony, we have become fragmented.
"Nevertheless, achieving high income now may not necessarily lead to a happier society."
However, Ferlito said inequality is not the most important issue. "The widening inequality is an issue when there is no economic growth. In the presence of it, there are more opportunities for all.
"It should not be the task of economists or politicians to promote happiness as it is a subjective criterion. For some, it coincides with material possessions, for others it does not," he added.
Political will and vision needed
Given the adverse impact brought about by political instability over the last five years, there is a possibility of the country reaping a "political stability premium" now that a new government is in place, Yeah said.
"Malaysia can benefit by promoting domestic and foreign investment aggressively combined with strong efforts to enhance good governance and the quality of the government's delivery service. For example, by reducing red tape and facilitating economic growth by being a catalyst and enabler of economic activities."
The Anwar Ibrahim-led administration must prove its effectiveness in its administration of the economy and its development activities.
Yeah called for a relook into the agriculture and energy sectors.
"There's a need to push food security and modernise the agriculture sector through pathways like precision agriculture and smart farming. For oil and gas, it needs to shift towards renewable energy.
"As for manufacturing, Malaysia needs to migrate to Industry 4.0 as we move up the value chain to provide high-end services. This includes scientific, and engineering and testing services. We must increase our R&D capabilities and capacity."
For Ferlito, Bank Negara Malaysia's directives and implementation at bank level have made banking procedures "very complicated" especially for international companies.
"Even for local companies, dealing with foreign incoming and outgoing, transfers is quite complicated. Simplification is needed," he said.
The labour market also needs to be more open to both expatriate and low-skill foreign workers. "For example, the 80/20 quota (80% Malaysians/20% foreigners) for a manufacturing licence is totally unrealistic, and makes it difficult to take important investment decisions," he said.
Lastly, Malaysia should rediscover the importance of manufacturing as the backbone of a country's economy, he said.
Ferlito believes it is possible for Malaysia to return to its glory days, but it requires political will and, above all, vision.
Likewise, Yeah's view is that with good governance, a focus on tackling corruption, right policies and strategies to raise efficiency, productivity and competitiveness in both the public and private sectors, there is no reason we cannot become an economic powerhouse and join the league of industrialised nations.
read more - https://www.freemalaysiatoday.com/category/highlight/2023/01/11/can-malaysia-regain-its-lost-asian-tiger-stripes/
Posted on 01-Sep-2023